Pastor Andrea looks up as Spring Creek elementary students check out hats
and mittens donated by St. Anskar parishioners to keep them warm on cold
winter days.
This month at St. Anskar's:
Revised monthly
This week at St. Anskar's:
Revised weekly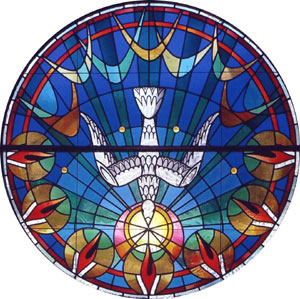 "
Reaching out
with faith, love and praise."
Looking for a church home?
Our mission statement captures three aspects of St. Anskar's identity. We are a faithful community of Episcopalians who gather from a wide area each Sunday morning to praise God and share the Holy Eucharist. Growing in love implies our desire to build on our common goals, sense of fellowship, and feeling of belonging to a large extended family/community. We look to continue to grow in our expressions of praise to the God who created, redeemed and sustains us. The Rev. Andrea L. Wight is rector of St. Anskar Episcopal Church. Come meet her and the rest of our church family this Sunday.
Download this month's Communicator

Pastor Andrea, and Pastor Ivan present books to first graders at Spring Creek Elementary School on behalf
of Partners for Faith.

Pancake dinner, Ash Wednesday services scheduled

Mark your calendars now for the Shrove Tuesday Pancake Supper on March 4 beginning at 6 p.m. Cost remains the same as in previous years: $4 per adult, $2 for children (up to 10 yrs old) and $10 max cost per family.

The next day is Ash Wednesday, and services for the imposition of ashes will be held at 12:10 p.m. and at 7 p.m. in the Chapel.
Reaching out:
Our outreach ranges from providing a regular meeting place for more than a dozen community groups to whipping up some great meals for some of Rockford's hungriest residents.
Learn more