Photo
by Dan Warren

Pastor Andr
ea, right, chat with visitors who attended
the recent dedication and blessing
for St. Anskar's newest ministry, the Bountiful Closet, which in partnership
with Love Inc, offers women plus-size career clothing, personal service and prayer.
This month at St. Anskar's:
Revised monthly
This week at St. Anskar's:
Revised weekly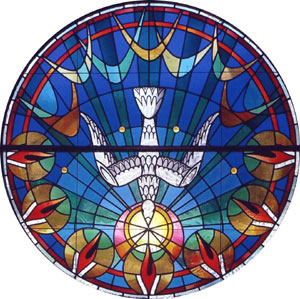 "
Reaching out
with faith, love and praise."
Looking for a church home?
Our mission statement captures three aspects of St. Anskar's identity. We are a faithful community of Episcopalians who gather from a wide area each Sunday morning to praise God and share the Holy Eucharist. Growing in love implies our desire to build on our common goals, sense of fellowship, and feeling of belonging to a large extended family/community. We look to continue to grow in our expressions of praise to the God who created, redeemed and sustains us. The Rev. Andrea L. Wight is rector of St. Anskar Episcopal Church. Come meet her and the rest of our church family this Sunday.
Download this month's Communicator


Photo by Dan Warren
Gensler Gardens driver hands of a flat of flowers to Joanne Blunt, who stepped up to help organize this year's annual Mother's Day Plant Sale, which was started about five years ago to help raise money to support worthwhile programs serving Rockford-area residents.
Plant sale raises $1,175
for outreach
Together, the four Partners for Faith congregations raised $1,175 to benefit Remedies and Carpenter's Place through our annual Mother's Day Plant Sale..
Thanks to everyone who made the plant sale possible—for all the orders, for those who kept track and collated all the orders, for those who helped unload and sort plants, and for those who helped distribute the plants on pickup day
.
Reaching out:
Our outreach ranges from providing a regular meeting place for more than a dozen community groups to whipping up some great meals for some of Rockford's hungriest residents.
Learn more