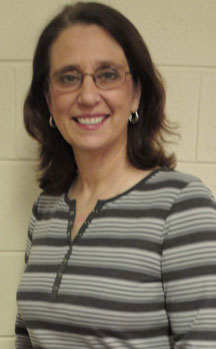 The Rev.
Andrea L. Wight
The Rev. Andrea L. Wight graduated from one of the Episcopal Church's eleven seminaries, the Church Divinity School of the Pacific in Berkeley CA, in May of 2003, and her position at St. Mary's marks the beginning of her active, ordained ministry.
She is a lifelong Episcopalian, being born and raised in New Jersey. As a teenager her family moved to Wyoming where she continued her life in the Church. She graduated from the University of Wyoming in Laramie with a Bachelor of Science degree in Pharmacy. Shortly after graduation she moved to Las Vegas NV where she lived and worked as a hospital pharmacist for close to 28 years.
She was ordained to the Transitional Diaconate in February of 2003, and was ordained to the Priesthood on October 25, 2003.
She is very active in the American Association of University Women, a member of the Kiwanis, with the Diocese of Chicago, is a member of the Greater Rockford Clergy Association, and is a volunteer reader at Spring Creek Elementary School. She enjoys running and yoga. She has two grown children, and two younger sisters.
Ten Essential Steps
for a Godly Life
Confess often, get rid of your sins: use the formal BCP confession, prayers from the prayer book or make up your own. Don't feel you always have to be right.
Get in the habit of using the name of Jesus often: think in his name and use it in prayer.
Don't blame others when you are sinning: when you know you are sinning stop it as quickly as possible.
If you are unhappy more than you are happy, find out why and change your life-it is inside you. We are responsible for our own peace, our own happiness. No one else can make us happy and we can't make others happy.
Spend more time in prayer: the more you pray, the easier things come. Talk to yourself-Jesus is in you.
Don't hold a grudge; you will be the one who ends up sick: give it up. Let God given music flow through you instead of the grudge.
Do not agree with criticism: this is the pivotal point in our spiritual growth. When someone is criticizing, especially the church, bow your head and silently pray for the person.
Stay loyal to worship. When you stay away from church you stop praying and you are open to Satan: it is not possible to be lukewarm.
Don't complain because things end-let's rejoice because they happened.
From an article by The Rev. Lewis O. Tanno,
St. Clement Episcopal Church, Tampa, FL
Vestry to start planning
for next 3-5 years
Summer is upon us and many of our busiest times and events are behind us, at least for a while. We slow down some as people take the time to travel and go on vacations or go on occasional weekend getaways. For me it's going away to Arizona during, yes, some of the hottest days of the summer. I will be away for most of June to relieve my mother's caregiver so that she can attend her granddaughter's graduation from high school. It's also the time I get to spend a long weekend with my daughter in San Diego—at least it's not quite as hot there!
This month as part of our Vestry meeting, the leadership of St Anskar parish is beginning a conversation to look at the next three to five years and talk about what might be on the horizon. Our members are getting older and many changes have happened over the past few years such that it is time to look at where we are now, and what will and will not be sustainable for us in the future. It was agreed by all that being proactive is preferable to doing nothing or putting off the conversation for another time. The conversation is important, one that we must have, and, as questions and options emerge from the conversation, it will be shared with the congregation. It is not a conversation that can be taken lightly or done quickly—it will take some very thoughtful discernment on our part. Your prayers are requested and encouraged as we begin this process of discernment.
Earlier this month, our plan was to bid farewell to the Marsdens. Due to circumstances beyond anyone's control, Cindy and Don will not be leaving Rockford. The story of this change in their decision to stay is, to say the least, very complicated. Cindy bravely shared some of the story with us during the service and afterward during the coffee hour. We said prayers and laid hands on her and blessed her during the service to let her know we love and support them in these difficult times. I won't get into the details, but please keep Cindy and Don in your prayers.
Pastor Andrea
This page prepared by St. Anskar's, Rockford